This breakthrough technology developed by Marumi makes DHG Achromat filters ideal for macro photography. Achromat Macro filters are designed to shorten the focal length of your lens and to enhance its macro mode capabilities with outstanding clarity. Other filters can provide simple magnification. Only Marumi Digital High Grade (DHG) Achromat Macro filters provide the edge-to-edge sharpness, detail, and clarity that professionals demand.


Marumi Digital High Grade (DHG) Achromat Macro Lenses
are available in 2 magnifications: 330(+3) and 200(+5).
Both produce outstanding edge-to-edge clarity that is
unsurpassed by any other filter product.

These lenses are manufactured to the highest standard and feature ultra low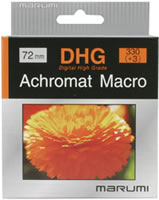 reflection coating. The Marumi (DHG) Achromat Macro lens is mounted in
specially designed rings that feature a low reflection and satin like finish.
They are specifically designed to be the thinnest possible, while maintaining
strength and functionality. This allows for the widest possible focus length.


| | | |
| --- | --- | --- |
| Item Number | Description | Size |
| AMDAC349 | DHG Achromat Macro 330 | 49mm |
| AMDAC352 | DHG Achromat Macro 330 | 52mm |
| AMDAC355 | DHG Achromat Macro 330 | 55mm |
| AMDAC358 | DHG Achromat Macro 330 | 58mm |
| AMDAC362 | DHG Achromat Macro 330 | 62mm |
| AMDAC367 | DHG Achromat Macro 330 | 67mm |
| AMDAC372 | DHG Achromat Macro 330 | 72mm |
| AMDAC377 | DHG Achromat Macro 330 | 77mm |
---
| | | |
| --- | --- | --- |
| Item Number | Description | Size |
| AMDAC549 | DHG Achromat Macro 200 | 49mm |
| AMDAC552 | DHG Achromat Macro 200 | 52mm |
| AMDAC555 | DHG Achromat Macro 200 | 55mm |
| AMDAC558 | DHG Achromat Macro 200 | 58mm |
| AMDAC562 | DHG Achromat Macro 200 | 62mm |
| AMDAC567 | DHG Achromat Macro 200 | 67mm |
| AMDAC572 | DHG Achromat Macro 200 | 72mm |
| AMDAC577 | DHG Achromat Macro 200 | 77mm |