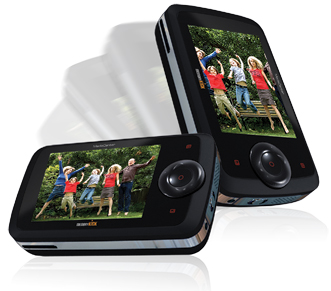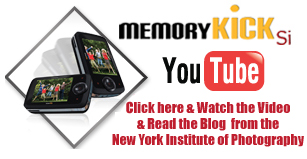 •

160/320/500GB

•

3.5" VGA LCD Color Screen

•

Up to 40MB/s Fast Transfer Speed,

•

Built-in USB OTG (USB Host)

•

Photo Viewer / Player

•

RAW Decoder / Viewer

•

Zoom In/Out


•

EXIF Display + Histogram


•

G-Sensor Auto Orientation


•

Copy, Paste, & Create Folders


•

Rename Folders

•

Insert Up to 4 Cards/Devices Simultaneously


• Video Player
• Music Player
• Audio / Video Out
• Earphones Included
• Backup 250GB on a Single Charge
• Lightweight: Only 9.87 Ounces
The MemoryKick Si is the most advanced portable Photo Backup, Photo Viewer, Video Player, MP3 Player, Card Reader, and complete Data Backup Solution.

Transfer any type of file (photos, videos, music, etc.) from memory cards at blazing fast speeds up to 40MB/s. Transfer both To & From the MemoryKick Si and any of the memory cards and USB flash drives used today; or transfer direct from memory card to memory card or flash device.
SEE all your Photos & Videos on a 3.5" VGA LCD Color screen. Zoom in & Out on your photos. View RAW photos with the RAW image decoder / viewer.Auto Orientation G-Sensor automatically adjusts for vertical or horizontal viewing.View all of your photos in the gallery thumbnail view. Create a personalized slideshow of your photos.
SHARE your Photos, Videos, Music, and files by transferring them from theMemoryKick Si to attached thumb drives or memory cards. Use the MemoryKick Si as a "media sharing center" transferring files between any attached memory cards or USB storage devices. The MemoryKick Si accommodates up to four memory card / devices simultaneously – CF, USB device, Memory Stick, plus another memory card.
STORE Photos on the MemoryKick Si high capacity 160, 320, or 500GB SATA Hard Drive. Backup your photos quickly and securely in the field.
PLAY your favorite music and videos and listen with the included earphones, the built in speaker or on your home audio system. Connect to an LCD flat panel monitor or television to view photos and watch videos.



| | | | |
| --- | --- | --- | --- |
| Item Number | Capacity | Color | MSRP |
| AMK2160BK | 160GB | Black | 349.95 |
| AMK2320BK | 320GB | Black | 399.95 |
| AMK2500BK | 500GB | Black | 529.95 |



SATA Hard Drives:

160 / 320 / 500GB

Size:

4.9" x 3" x .9" (125mm x 75mm x 24mm)

LCD Size/Type:

3.5" VGA High-Res Color

Audio Out (earphones included)
Audio Out for Stereo/Car

Personal Media Player Features:

Music Player:

MP3, WMA, AAC, Audio CD,


Uncompressed WAV in MS-RIFF

Video Player:

MOV, AVI, WMV, MP4, Xvid,


Motion JPEG

DA-FMS Technology for Ultra Fast
Transfer

Transfer Speed:

Up to 40 MB/s from
memory cards


Number of Memory Card Slots:

3
(Direct Input for Multiple Cards & USB Devices)



Compatible Memory Cards


CF Type I/II/III/IV, (UDMA Cards Supported)
SD, SDHC, MMC, MMC Plus,
MS, MS MagicGate, MS Select,
MS PRO, MS PRO MagicGate, MS Pro-HG, MD,
xD, xD Type M/H




•
•

3.5" VGA LCD Color Screen

•

G - Sensor Automatic Image
Orientation vertical / horizontal

•
•

Card Reader Functionality

•

Full Multi-directional support

•

Copy To/From Memory Cards & Flash Devices

•

Accommodates up to 4 Cards/Devices

simultaneously CF, USB Device, Memory Stick, & other Memory Card.














Photo Features:
World's Fastest Memory Card Backup
RAW image decoder/viewer
Photo Gallery Thumbnail View
Zoom In / Zoom Out
G-Sensor for Auto-Rotation

Copy & Paste Folders
Create New Folders
Rename Files & Folders w/ QWERTY Keyboard


User Specified Gallery
User Specified Playlist
User Specified Favorite List

EXIF information + Histogram
Slideshow:
Compatible w/ Projectors
Compatible w/ Pico Projectors
Firmware: User Updateable via Free Downloads
Battery Life: Transfer 250GB on One Battery Charge
Power:
AC power adapter: 5V, 2000mA (Included)
USB bus Powered: 5V, 500mA (Included)
Car charger: 12V DC, 500mA (Optional)

O/S Supported:
Windows 98 SE/ME/2000/XP/Vista
Mac OS 9.2, 10.1.5, 10.2 or Later

USB 2.0 & USB 1.1
backwards compatible
Forward Compatible USB 3.0
Built-In USB OTG